Global warming is a topic that has been mentioned for many years. The global warming also leads to climate change. And it is important that the protagonist affected is us. The use of energy sources from fossil fuels has a significant impact on the environment. Finding and using natural energy, green energy, clean energy source is essential to protect us and mitigate environmental pollution. Among natural energy sources we can take advantage of are solar power sources.
PATSOLAR COMPANY INSTALLING SOLAR POWER SYSTEMS
Foreseeing that need, PATSOLAR has provided construction services, installation of solar power systems for homes, apartments, motels, rooms, hotels, business households, factories … nationwide, especially the central region, Da Nang.
PATSOLAR is proud to be one of the leading units specializing in providing solar panels, solar battery installation accessories and solar energy solutions in Vietnam.
With more than many years of experience in the field of solar system construction and owning a young staff. enthusiastic, dedicated and skilled in the construction of electrical systems as well as solar power, so you can feel secure our service.
With us, you will be consulted free of charge from choosing the location or installation direction to choosing the right products and equipment for your system. So do not hesitate to call us immediately for any solution …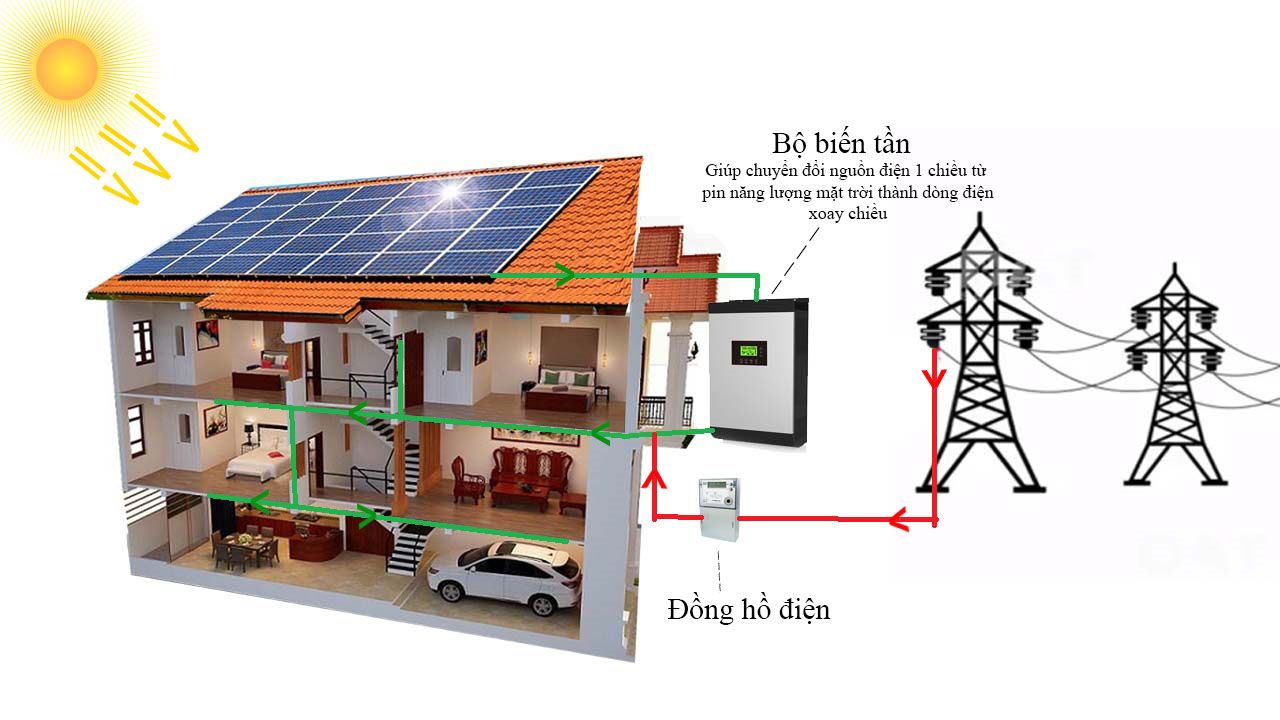 INSTALLATION PROCEDURE OF SOLAR POWER SYSTEM

Step 1: Receive requests from customers via phone, ZALO, and Email
Step 2: Consulting the investment of suitable solar power system.
Our company will advise customers to choose a solar power system suitable for investment costs as well as installation space. Normally, the solar power system is divided into 3 categories:
Independent solar system (using storage batteries).
Solar energy system connects to the national grid
Grid-connected solar system with storage.
Here, we recommend customers to use grid-connected solar power systems because the system is simple and environmentally friendly to operate without spending too much investment and installation. (See here to find out and choose a suitable grid tie system)
After choosing the solution, we will advise you to help you choose to invest in a solar energy system to match the capacity to suit the needs of electricity.
Depending on your household's monthly electricity consumption and initial investment costs, you can choose a kit with the right capacity. You can solar power system with a capacity of 3KW, 4KW, 8KW, 10KW, 20KW …
Step 3: Survey and design solar energy system
After being consulted and selected the right product for the customer's power consumption, we send experts to survey the reality, analyze light conditions, area and angle to optimize. Solar energy systems.
The survey results of the experts are analyzed and systematized and the financial costs and the payback points are calculated.
With the larger amount of electricity consumed, the larger the area to install solar panels, which is also a problem that many projects have difficulty in deploying.
Purpose :
Optimizing power consumption with system design through software.
High performance response and fast payback time.
Easy maintenance and future battery generation.
Ensure safety when rain, wind, storm.
Increasing aesthetics for home works.
Meet the standards of EVN electrical engineering
Step 4: Construction and installation of solar power system.
1. Select suitable direction and angle for solar system installation.
The direction of sunrise and sunset in East – West. For the sun to shine on the solar panel from morning to afternoon, the solar panel is placed down to the south at an angle of 10 – 15 degrees, our system has the highest efficiency.
Choosing a bracket for the solar system we should use stainless steel or anodized aluminum to make because this material is durable and long-term, creating a solid frame.
2. Construction of solar cell system installed in the attic.

– The battery plate is rotated to the South, tilted from 10o to 15o.
– Minimum distance from panels to roof is 115mm.
– The distance of modules should be at least 10mm apart.
– Should use stainless steel for all components to ensure durability.
– Tighten the modules with M8 bolts.
– Use at least 4 clips with a thickness of 7-10 mm to fix the panel to the frame.
3. Wiring method.
– When wiring, make sure the contacts are clean and dry.
– Check the voltage of each module before parallel connection, if you see the polarity reversal or the difference is greater than 10V, you need to check again.
– Each module has 2 wires available to the sun drum, need to be connected to a wire with a cross section of at least 4mm2.
Step 5: Warranty and maintenance of solar power system.
Solar energy system equipment warranty in accordance with the factory standards.
– Warranty for the entire solar energy system has been constructed for 5 years from the date of putting into use.
– Solar PV system maintenance without charge for the first year includes cleaning the panels and frames, checking the operation of connected devices and the system.
– With solar panels using 25 years, 10 years warranty.
– 25 years warranty for panels for 85% of output capacity of the product.
– Inverter use time 10-12 years, 5 years warranty.
– The system's wiring equipment has a 2-year warranty.
– Actively monitor and prevent incidents.
– Guide customers to maintain, repair and renovate the system.
After the solar system is in operation, PATSOLAR Co., Ltd. will continue to accompany our customers for 25-30 years of monitoring and monitoring the system, and warranting long-term effective equipment.
SOME PICTURES OF CONSTRUCTION SOLAR ENERGY SYSTEM